Blood, Sweat & Tears (also known as "BS&T") is a contemporary jazz-rock American music group, active throughout the later part of the 20th century and still into the 21st. They are well known for their music throughout the late 1960s to early 1970s, and they are noted as well for their combination of brass and rock band instrumentation. The group recorded songs by rock/folk songwriters such as Laura Nyro, James Taylor, The Band, the Rolling Stones, as well as Billie Holiday and Erik Satie. They also incorporated music from Thelonious Monk and Sergei Prokofiev into their arrangements.
They were originally formed in 1967 in New York City. Since their beginnings, the eight member band has gone through numerous iterations with varying personnel and has encompassed a multitude of musical styles. What the band is most known for, from its start, is the fusing of rock, blues, pop music, horn arrangements and jazz improvisation into a hybrid that came to be known as "jazz-rock". Unlike "jazz fusion" bands, which tend toward virtuostic displays of instrumental facility and some experimentation with electric instruments, the songs of Blood, Sweat & Tears merged the stylings of rock, pop and R&B/soul music with big band, while also adding elements of 20th Century Classical and small combo jazz traditions.
TruTech started with a group of four. We have talents abound, however we were not as musical. We relied upon a radio instead of our own singing.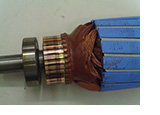 When we first start building brush motors, we all shed blood in cleaning the grooves in the commutator. We sweat our brows meeting deadlines. And we have shed a few tears of laughter in the process.
And now we will sweat with more deadlines looming as we attempt to move into our new building at the end of this month. Hope the buildout is on time and we get production operational. Hooray!
Our new address as of July 1: 5201 East River Road, Suite 303, Fridley, MN 55421