The Art of Balance is the third album by American heavy metal band Shadows Fall, released on September 17, 2002. The album sold over 4,500 copies the week of its release, and debuted at position 15 on the Top Independent Albums chart. Thematically, the album was inspired by the quest to find a perfect "balance" between melody and aggression. Lyrically, the album revolves around the fight against spiritually destructive forces. The song "Thoughts Without Words" was influenced by Chinese Buddhism and refers to the moment where, through meditation, a person's inspiration and expression become united. The concept behind the album, as explained by Brain Fair: "It's the idea of oneness and unity between all people and all things.
TruTech doesn't work with too many heavy metals other than copper and magnetic steel. We do take a combination of things: magnets, magnetic steel, copper, aluminum and steel to create unity in a motor design.
Art of Balance for TruTech can come in a few forms for us.
We exhibit the "Art of Creating Balance" to measure the correct amount of 3M Scotchcast and Acetone which are used to bond stators. The white powder really is 3M Scotchcast.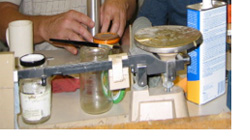 We also have balancing equipment for rotating elements for shafts which could be have a bonded stator (brush) or magnetic core (brushless).
Finally, we try to create balance in our lives. I can tell you from first hand experience on being a business owner of a start up, the balance is tipped in the direction of putting in long hours at work. However, as we have rounded our 5th year, we are able to spend more time with our families and friends.