TruTech is a USA manufacturer of DC Brushless Servo Motor Solutions. We achieve our objectives through our dedicated staff focusing on your needs. While our own manufacturing strength is the motor, we partner with other companies to provide a complete solution that can include feedback, gearbox, actuator, drive and brake options to deliver an optimized system. Or we can manufacture a part set to integrate with your components. Our goal is to work within your objectives and deliver anything from a component to the complete system.
Located in Fridley, Minnesota, we design and manufacture DC servo motors. Managed to move quickly from order to design, production, test, and delivery using stocked standard components from 40mm – 142mm. We can deliver in under one week if required. We can do onsite modifications for special shafts, housings and end caps. Our custom designs can also be completed in under 6 weeks after approval drawings accepted.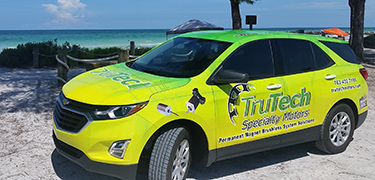 Tailgate Tradeshows
Transforming Ideas Into Motion Solutions!
Let us show you at your company what we can do.  
University of Minnesota Solar Car Program
We continue to sponsor the U of M in their solar powered car that competes in Australia each year.
TruTech builds motors for autonomous vehicles – from design to manufacturing.